Product introduction:
Called Smart Wheels, Electric Skateboards, Sky Walker Board Hoverboards, Air Wheels, Hoverboard is the most popular outdoor entertainment and vehicle tool of 2015. We offer multi-color options for 6.5-inch hover boards. The size of the tire is 6.5 inches. It is completely safe for children and adults to play together!
Product parameter:
| | |
| --- | --- |
| Product name | 6.5 Inch Two Wheel Balance Scooter Classic Hoverboard |
| battery | 36V 4.4AH lithium battery |
| Maximum distance ride | 10 to 20,000 |
| Max speed | 12km / h |
| Motor power | 350W * 2 |
| Maximum load | 120KG |
| color | Blue / Gold / Red / Silver / Green / White / Black |
| charging time | 2 hours |
| Speed protection | 12km / h |
| PackagingSize | 69 * 26 * 26 CM |
| Distance to ground | 30MM |
| Tire size | 6.5 inches |
| weight | 12KG |
| standard | Charger, Giftbox, User Manual |
Product features:
This type of hoverboard is a truly classic design for kids and adults. With easy operation and sufficient battery range, you can live a free, comfortable and comfortable life. Self-balancing scooters bring travel games to a whole new level. Hoverboard is a balance scooter for self-balancing electric motorcycles using innovative gyroscope technology. It has two footpads with an intuitive, state-of-the-art sensor and an aluminum smart balance wheel, which can detect even slight movements. We use the cutting edge technology of long-term rechargeable lithium batteries and it takes 2-3 hours to fully charge. With a sturdy hard case and two blue LED lights, you can easily move in the dark. The lightweight, sleek design and ease of use make it the perfect gift for all ages. We guarantee that your child wants any of these, and you definitely do not want to be a parent even if there is no one at Christmas.
Product details:
Body size: 630 * 235 * 235mm
Net weight: 11 kg
Maximum load: 120 kg
Tire size: 6.5 "
Battery capacity: 36V 4.4Ah
Charging time: 2 hours
Waterproof, dustproof level: IP54
Package dimension: 650 * 260 * 260mm
How to use:
Move according to your body's gravity
step 1. To move forward or backward on the scooter, the rider leans slightly forward or backward.
Step 2. To turn left or right, the rider simply moves his or her foot with the left and right pedals.
Step three. Straight you stop moving.
You gain a sense of power and speed, but you also feel a sense of safety and absolute control, all of which are natural, safe and instinctive.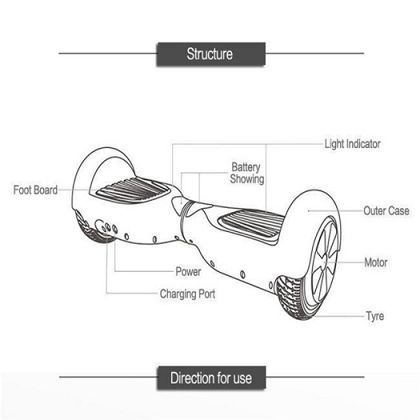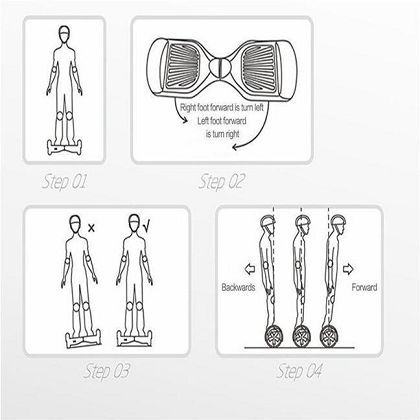 Our service:
1. Delivery time: 1-2 days for sample order, bulk order: 5-7 days depend on the quantity
All products are well tested before shipping
3.OEM orders are welcome
4.24 Hours Online Service
Frequently Asked Questions:
Why choose us?
Powerful factory with experienced engineers
We offer the best quality at cheap prices
2. What is the battery?
36V 4400mhA battery (China, Samsung, LG) has run out
3. Can I order samples?
Yes. Sample order to test quality is possible
Can I go to your factory?
Of course, warmly welcome to visit our factory in Shenzhen City
5. How long is the warranty period?
Offers a 12 month repair warranty
What is your payment term?
Paypal, Western Union or Bank Transfer
Factory picture: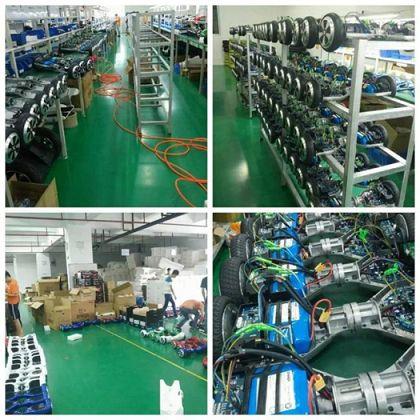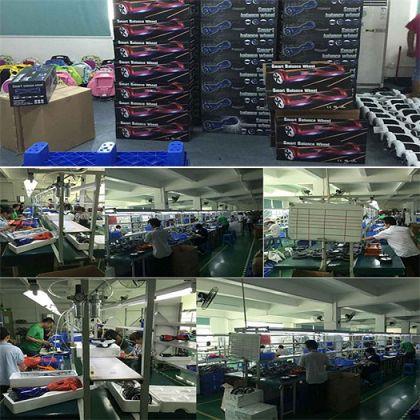 Shining Electric has a wealth of experience in producing cheap real two wheel hoverboard smart balance wheel brute hoverboards and is known as a leading China manufacturer and supplier. Welcome to wholesale high quality and functional equipment at cheap price from our factory.
Shining Electric has abundant production experience of 6.5-inch Segway hover board and is known as a leading manufacturer and supplier in China.
Welcome to wholesale high quality and functional equipment at cheap price from our factory.